Tromsø, June 12-14, 2024
The 22nd Nordic Conference on Forensic Medicine (NCFM) will be a joint event with the 7th Annual Meeting of the Nordic Association of Forensic Toxicologists (NAFT), taking place 12-14 June 2024 in Tromsø, Norway
Tromsø is located at the latitude of 69.65°N and is the northernmost university city in the world. The city, with a population of 77 000, is a cultural hub for the region and is surrounded by fjords and mountains. The magnificent nature, combined with midnight sun and aurora borealis (wintertime) attracts tourist from all over the world.
The conference will cover topics within forensic pathology, clinical forensic medicine, forensic toxicology, genetics, odontology, anthropology, and more.
The conference will be held at the university campus. The university, UiT The Arctic University of Norway, was established in 1968 and the campus in Tromsø has 12 000 students who make their impact on the city life. We can promise an exciting scientific program and joyful social events taking place in the light of the midnight sun.
We are looking forward to welcome you in Tromsø in 2024!
Registration for the conference is open.
We have now opened the abstract registration for this event.
Keep me updated on this conference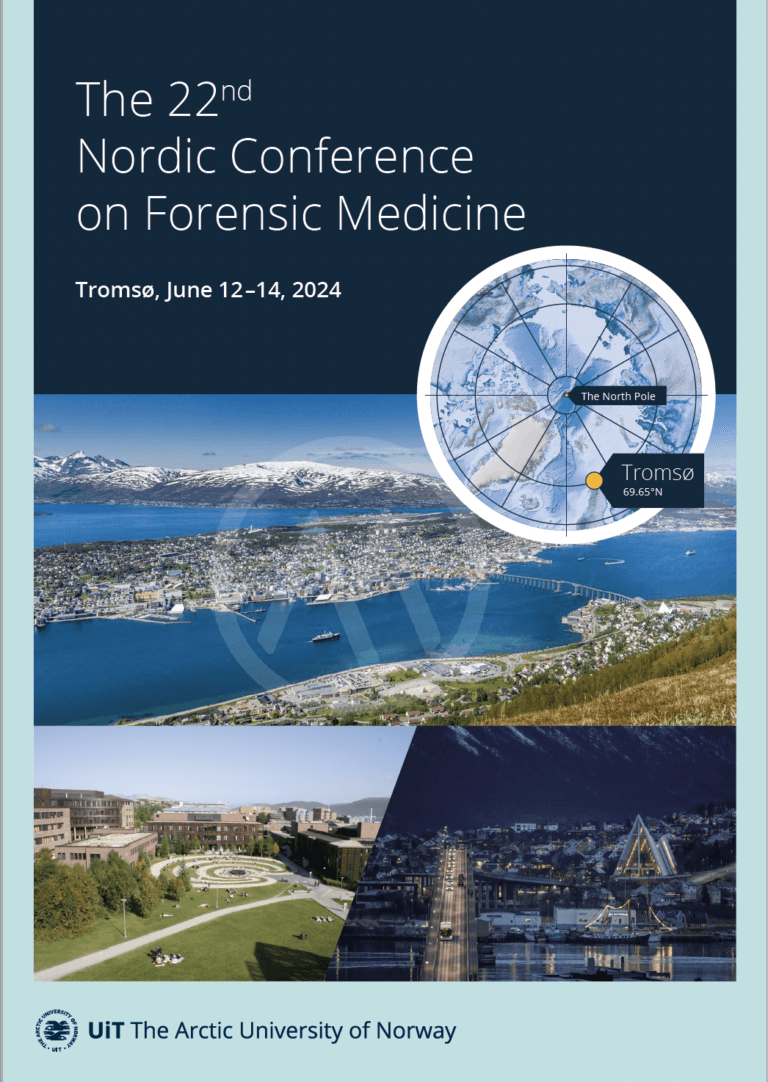 Program
Tuesday, June 11
19:00-21:00: Welcome Reception with tapas and drinks
Wednesday, June 12
09:00-09:45: Opening ceremony
10:00-10:45:  Keynote lecture
11:00-12:00: General session
12:00-13:30: Lunch and posters
13:30-14:45: Forensic pathology – Forensic toxicology – Forensic odontology
14:45-15:30: Coffee/tea and posters
15:30-17:00: Forensic pathology Clinical forensic med. Forensic anthropology
Thursday, June 13
09:00-09:45 Keynote lecture
10:00-10:45 General session
11:00-12:00: Forensic pathology – Forensic toxicology
12:00-13:30: Lunch and posters
13:30-14:45: Forensic pathology – Forensic genetics
14:45-15:30: Coffee/tea and posters
15:30-17:00: Clinical forensic medicine – Forensic toxicology
19:00-:  Conference dinner
Friday, June 14
09:00-09:45: Keynote lecture
10:00-10:45: General session
11:00-12:00: Forensic pathology – Forensic toxicology
12:00-12:30: Closing ceremony
Organizing Committee
Lars Uhlin-Hansen
Christian Lycke Ellingsen
Arne Kristian Myhre
Berit Schei
Thomas Berg
Ane Elida Fonneløp
Miriam Mjærum Bouzga
Elisabeth Leere Øiestad
Trond Oskar Aamo
Gudrun Høiseth
Åse Marit Leere Øiestad
Scientific Advisory Board
Ane Elida Fonneløp
Ricky Ansell            
Claus Børsting
Pirkko Kriikku
Henrik Green
Elisabeth Leere Øiestad
Riina Korjamo
Arne Kristian Myhre
Ingemar Thiblin
Jytte Banner
Antti Sajantila
Arne Stray-Pedersen